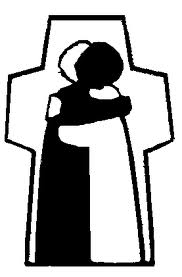 Welcome to Saint Anthony Place! When you visit the Shrine of SS. Peter and Paul on Fayette Street in Cumberland, the outreach center of Saint Anthony Place is just around the corner.
Turn your clock back to January of 1997. This was the inception of St. Anthony Place – where you enter through the iron gate of 109 North Smallwood Street. A number of parishioners ably assisted as volunteers to provide support to the many folks who are truly in need of food and associated assistance.
Since that date in 1997, Saint Anthony Place has grown, and now serves the Cumberland community as well as the neighboring areas within a fifty mile radius. Our mission is to assist families with non-perishable food and cleaning supplies as well as assistance with rent and public utilities.
Saint Anthony Place is a loving place where many volunteers join in sharing time to assist our neighbors who have so little. Through the Maryland State Department of Social Services, clients are referred for special assistance. Clients are eligible to come to Saint Anthony Place once a month for three months. Thereafter, Social Services will provide a referral to continue with needed assistance, as well as ability to receive a voucher for perishable items at designated food markets in Cumberland.
In 2016 assistance has been provided to thousands of families with food, rentals and utilities.
The needs of the Cumberland area are growing. During the month of April we helped 103 families which consisted of 190 adults, 85 children, 26 senior citizens and one homeless. We have our 157 bags of food, 67 vouchers and 3 families with diapers. We cannot do this without the generous help from you either monetary or through volunteering. We are still collecting winter coats and turkeys from Martins. We do not need any more plastic bags. Many thanks to all who are keeping St. Anthony place going.
Through the kindness of area friends, parishioners and benefactors our mission is accomplished. The hours of operation are Monday through Friday, 1:00 p.m. to 3:00 p.m. The Catholic churches of Our Lady of the Mountains Parish observe the first Sunday of each month as Food Sunday. On this Sunday, parishioners may bring canned food items to any of the parish churches to provide support.
We are most grateful to our men and women volunteers who adhere faithfully to their assigned schedule for daily operation. Do we need additional volunteers? You can bet we do! Nancy Welsh and Susie Helmstetter are the co-coordinators of St. Anthony Place. If you would care to offer your services, we extend our welcome to new and supporting friends always. Monetary contributions are always appreciated in order to continue our mission.