Infant Baptism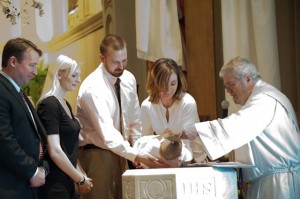 A preparation class will be the last Saturday of every month at 10:00 AM at St. Mary Church Meeting Room 6. Please contact the Parish Office to register for this class. The following are the guidelines for Baptisms in Our Lady of the Mountains Parish:
Only the parent/legal guardian may make arrangements/registration for the Baptismal Program.
Families must be registered parishioners of Our Lady of the Mountains. If a baptism is desired here in our parish by a family that lives outside our parish we must receive a letter from their home parish granting us permission to baptize one of their parishioners and that the parents have completed the preparation program of their home parish.
The classes are for the parents of the child. If one of the parents is not Catholic they are encouraged to also take the class but it is not required. Godparents are invited to take the class with the child's parents. We only require parents to take a class if they have not previously taken a class for an older child.
Godparents must be fully initiated Catholics who are practicing the faith. If the Godparent is from another parish we will require a letter of good standing from their parish. A non-Catholic baptized Christian may serve as a Christian Witness if that is desired as long on there is a Catholic Godparent and the non-Catholic is an active member of their own church.
We encourage baptisms to take place in a Saturday or Sunday Mass. Baptisms may also be scheduled on a Saturday or Sunday outside of mass if that is desired. Baptisms may be celebrated at any of our five Parish Churches.
Parents may request a particular priest or deacon of our parish to preside at the baptism and we will do all we can to accommodate your desire.