GET TO KNOW YOUR FELLOW PARISHIONERS
Irene (Ley) Grabenstein
Widow of Deacon Herman J. Grabenstein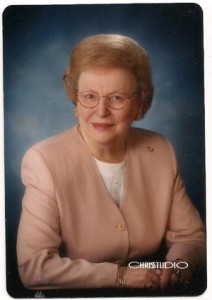 RESIDENCE: 201 Sunset Drive, Cumberland, Maryland 21502
BORN: August 18, 1922 In Cumberland (# 6 OF 7 CHILDREN)
Lifelong member of SS. Peter & Paul Church (now Shrine of SS. Peter & Paul)
Currently attending St. Ambrose Church, Cresaptown, MD
Educated at SS. Peter & Paul School – Cumberland
Graduated in 1940 from Ursuline Academy – Cumberland
Then on to Ursuline Business School – Cumberland – to begin career as Executive Secretary
CHILDREN:
Lawrence A. Grabenstein – Amelia Island, FL & Baltimore, MD
Brother Joseph L. Grabenstein, FSC – LaSalle University – Philadelphia, PA
Jane E. Grabenstein, RN – Pittsburgh, PA
Dr. John D. Grabenstein – Collegeville, PA
8 Grandchildren – 7 Great-Grands
WORK:
Executive Secretary – Potomac Edison Company
…Raising four children before re-entry to business world
LaSalle High School – Executive Secretary – 1963 – 1966
Pioneer with opening of Bishop Walsh High School in 1966 – Administrative Assistant until retirement in 1998.
CURRENT INVOLVEMENT:
Volunteer – St. Anthony Place
Volunteer – SS. Peter & Paul Bereavement Committee
Secretary of the Bishop Walsh School Board
Coordinator of the Commemorative Stained Glass Window housed at Bishop Walsh School
Serves as secretarial associate for the Annual ACIT Basketball Tournament
1988 – the Baltimore Province of the Christian Brothers presented Irene with the coveted honor of Affiliation – an honorary Christian Brother – which is reserved for a chosen few. This honor is very special in her book of memories – and she is affectionately referred to as "Brother Irene."
1994 – received the Archdiocesan Medal of Honor in recognition of commitment to Catholic Education in the community.
SPECIAL PARISH MEMORIES:
As I reflect on my ninety years as a member of Our Lady of the Mountains Parish (SS. Peter & Paul), I pause to express my gratitude for my Catholic education – my greatest treasure. I cherish the spiritual leadership of the Capuchin Friars….the special memories of our May processions….the beautiful hymns to the Blessed Mother….the guidance of the Ursuline Sisters, the School Sisters of Notre Dame and the Christian Brothers as my children were being educated….the Ursuline Academy proms in our Parish Hall….the unending bake sales….meeting varied Mass schedules with three sons as altar boys….joining with my father to assist his volunteering to direct school dramatic productions and minstrels on our Parish Hall stage….mending cassocks for the altar boys….the Ordination of my late husband to the Diaconate in our Archdiocese….the care and concern of Father Bernard Finerty when my husband was nearing death….the departure of the Christian Brothers from the campus of Bishop Walsh School and the Cumberland community….enjoying the many parish gatherings to renew long-standing friendships….to hear the laughter when dressed in Easter finery at Mass and my new hat blew across the Parish parking lot (I found it!)….serving on the committee to prepare for the arrival of Bishop James E. Walsh to the school bearing his name when released from Chinese prison….and the gratification of my greatest "accomplishments" – Larry, Brother Joe, Janie and John.
I LOVE TO LIVE

Today, Dear Lord, I am 80,
And there's so much I haven't done.
I hope, Dear Lord, You'll let me live until I'm 81.
But then, if I haven't finished all I have to do,
Would you let me please stay awhile, until I'm 82?
So many places I want to go, so very much to see,
Do you think you could manage to make it 83?
The world is changing very fast, there is so much in store,
I'd like it very much to live until I'm 84.
And if by then I'm still alive, I'd like to stay 'til 85!

More planes will be up in the air, so it would be rich
To see what happens to the world when I turn 86.
I know, Dear Lord, it is much to ask
(and it must be nice in Heaven)
But I'd really like to stay until I'm 87!
I know by then I won't be fast, and sometimes will be late,
But it would be so pleasant to be around at 88.
I will have seen so many things, and had a wonderful time.
So, I am sure that I'll be willing to leave at the age of 89.
Maybe!
Just one more thing I'd like to say, Dear Lord,
I thank You kindly,
But if it's okay with you, I'd love to live past 90!