Dear Friends,
May the peace of the Lord be with you. Welcome to the website of Our Lady of the Mountains Roman Catholic Parish!
We are glad you stopped by for a visit. Our website is a "work in progress" as we refine and add to our format on a continual basis. We have a link to access our Sunday Bulletin, and we will have articles and feature stories each month with plenty of pictures. Plus we have links to the Archdiocese of Baltimore and the Catholic Review (our Archdiocesan bi-weekly newspaper), so we welcome you to visit us often to see what's new.
We especially invite you to share in our worship at our daily and weekend Masses so we can meet in person. There are plenty of other activities going on in our great parish that you are welcome to attend. Please call or e-mail us for more information. We'd enjoy meeting you.
We invite you to share your comments and ideas with us as to how we can reach you and reach out to you better.
May you be blessed always!
Your Brothers and Sisters In Christ,
~Fr. Greg
Parish Mission Statement
We, the parishioners of Our Lady of the Mountains Catholic Community, in union with the Archdiocese of Baltimore are called together by Jesus Christ to evangelize, worship, and serve as a community of faith. May the Holy Spirit be our inspiration and Mary our model of grace.
Our Lady of the Mountains Parish was established in 2011. It is a merger of five formerly independent parishes in Western Maryland: Saints Peter and Paul, St. Mary and St. Patrick (in Cumberland), St. Patrick (Mount Savage) and St. Ambrose (Cresaptown). For the past eighteen months, Catholic parishioners have been worshipping, serving, celebrating and collaborating to create what our former Archbishop, Edwin O'Brien, and our present shepherd, Archbishop William Lori, called us to become: "one united community of faith." It has had its bumps and challenges to be sure, but we are getting there slowly, surely and faithfully every day.We have found that working on common projects like ministry to the sick; homebound and nursing home patients; ministry to youth and teenagers; and ministry to the poor and needy of our area have enabled us to become closer as a parish family. We have also celebrated traditional "fun raisers" and "fund raisers" at each site and have found ourselves working more closely together as a united group of Catholics who want to make our new parish "work." Efforts by the Social Activities Committee, the Advertising and Public Relations Committee and the Evangelization Committee have had us working side by side to meet the needs of our parish and our local community.We have five noble histories and five wonderful stories to share together as Our Lady of the Mountains Parish. We are enriched by our diversity, blessed by our uniqueness and united by our common faith in our Lord, Jesus Christ and our Roman Catholic heritage as members of the Church of the Archdiocese of Baltimore.We invite you to worship with us, serve with us and share God's "work in progress" here in Western Maryland.
††††††††††††††††††††††††††††††††††††††††††††††††††††††††††††††††††††

Here you will find all the current happenings going on in and around our five parishes as well as noteworthy articles.
††††††††††††††††††††††††††††††††††††††††††††††††††††††††††††††††††††

OLM Picnic Cookie Baking Contest

Thank you to all who entered our Cookie Baking Contest and to those who shared their recipes.

Congratulations to the OLM Picnic Cookie Baking Contest winners:

1st Place ~ Annette Bishop ~ $100 Martin's Gift Card

2nd Place ~ Jean Morris ~ $50 Martin's Gift Card

3rd Place ~ Rianne Treadwell ~ $25 Martin's Gift Card
If you want to give some of the cookies a try you can find the recepes HERE
††††††††††††††††††††††††††††††††††††††††††††††††††††††††††††††††††††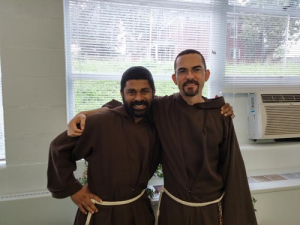 Welcome Br. Roshan Anthonypillai, OFM Cap and Br. Juan Antonio Ortiz, OFM Cap.
Br. Juan Antonio has finished his studies in theology and is preparing to be ordained a Deacon this fall. After his ordination he will be spending his deacon year with us at Our Lady of the Mountains! Br. Roshan will be spending the summer with us before he returns to his theological studies in Washington, DC. He will be helping with Vacation Bible School, ministry to the sick, the summer lunch box program and much more!
††††††††††††††††††††††††††††††††††††††††††††††††††††††††††††††††††††
Congratulations to our 2015 Confirmation Parishioners!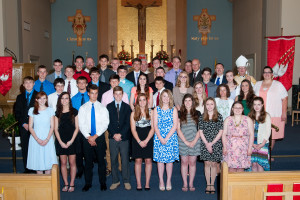 ††††††††††††††††††††††††††††††††††††††††††††††††††††††††††††††††††††
Our Lady of the Mountains Parish invites you to view Archbishop Lori's annual appeal message. The Archbishop reckons select programs supported by the Annual Appeal and he gives the programs in Mountain Maryland first place. He acknowledges our paucity of priests and applauds and supports our creative inclusion of lay persons to continue to grow robust ministries of service to the community. He also singles out Bishop Walsh Catholic School as a concrete example of bringing the Gospel of Jesus Christ to families in the area, opening minds and touching hearts. And the video even includes pictures of familiar faces and places. Enjoy this short video and support the Archbishop's Annual Appeal by calling the parish office.
††††††††††††††††††††††††††††††††††††††††††††††††††††††††††††††††††††
In Loving Memory of
Fr. Bernard Finerty, OFM Cap.
July 31, 1935 – January 23, 2015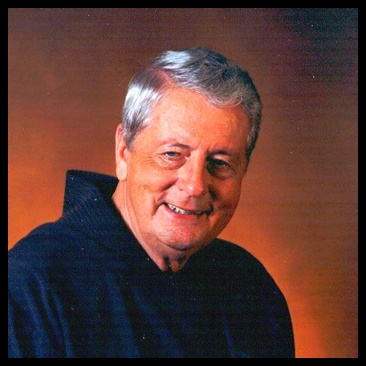 Fr. Bernard we will miss you!
††††††††††††††††††††††††††††††††††††††††††††††††††††††††††††††††††††
Our Lady of the Mountains Parish is pleased to announce a new addition to our website called "Meet Your Fellow Parishioners." We will begin by featuring our longtime (and in many cases, lifelong!) parishioners. We are grateful to those who have agreed to participate and hope to feature someone from each of the five church sites every couple of months. We hope you enjoy getting to know these extraordinary members of our parish family – they are treasures among us!
We are honored to introduce, as our second feature Mr. and Mrs. Eugene Zembower.
You can find their bio here!
If you missed our first bio of Mrs. Irene Grabenstein, you can find her bio here!