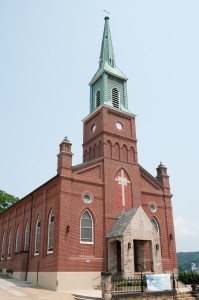 Mass Times:
Monday, Tuesday, Thursday, Friday 7:30a.m. and 12:00 Noon
Wednesday 7:30 a.m. & 6:00 p.m.
Saturday 8:30a.m.
Reconciliation Wednesday 12:00-1:00p.m.
and 6:30-7:00p.m.
Adoration of our Lord in the Blessed Sacrament: Wednesday 8am until Benediction at 11:50am..
Open for prayer and adoration Monday through Friday 7:00 a.m. to 4:00 p.m.; Saturday 8:00-12:00 p.m. Address
125 Fayette Street Cumberland, Maryland 21502
Our Lady of the Mountains Gift Shop: 
Tuesday and Thursday 10 am – 1 pm, Saturday 8 am – 12 noon
Click here for details
Address

109 N Smallwood Street Cumberland, Maryland 21502
Founded in 1848 by Redemptorist Bishop John Neumann (who later became America's first male saint), SS Peter and Paul served the growing German Catholic population in Cumberland at the time. After the departure of the Redemptorists and then the Carmelite Friars, the Capuchin Franciscan Friars arrived in 1875 and have served SS Peter and Paul Church since then.
Daily Mass for the parish is now celebrated at this site. Prayer groups, bible study and tours of the facility are also conducted, and SS Peter and Paul operates the St. Anthony Place food pantry and gift shop at this location.